Ondrej Havelka is the artistic Director of the ensemble
Since his student years, this entertainer, generously endowed with versatile talents, has lived only for jazz and swing of the period between the wars.
Ondrej Havelka graduated from the Drama School of the Academy of Performing Arts in Prague (major subject acting), and from the Janacek Academy of Performing Arts in Brno (direction). Having left the Drama School, he spent six years in Studio Ypsilon, a theatre in Prague. He soon appeared on the cast of films and television plays. His successful acting career has brought him four leading parts in feature films and two leads in television series.

After the Velvet Revolution in 1989, he took up television scriptwriting and direction. He has created three theatre musicals as a director.

Ondrej has been deeply involved with singing, dancing and tapping jazz and popular music of the 1920s and 1930s since the time he was a young student. He has recorded six albums with the Original Prague Syncopated Orchestra, and wrote and co-directed a musical film for this band. At the 1991 Montreux festival of television entertainment, this film was awarded a Silver Rose.

In the role of the scriptwriter, singer and director, he recorded a series of three clips in 1995. One of them won the 1995 Czech Grammy award as the Clip of the Year. MTV-Latin bought and broadcast another clip, Jingle Bells.

Also in 1995, Ondrej started his own swing big band, Melody Makers, and has been performing with it since.

The Czech Grammy Academy awarded the Jazzman of the Year title to him in 1996.
How do you record?
"All of our recordings are produced without any playback – the whole band, including the vocals, play directly on two microphones. Several takes are then edited to finalise the recording. This approach is more laborious than the current studio practice, but the result is usually livelier, more natural, unprepared, because natural aliquot links reverberate between the various acoustic instruments. Another point is that the recording breathes the tension and quiver which you are only able to feel at live concerts when each individual musician is responsible for the way the entire ensemble sounds. Also, let's not forget than most of the parts are played on historical instruments."
You have let yourself be heard several times that you do not like the word 'image'. Why, don't you create your image wherever you go?
"One of the fundamental axioms of the actors' craft occurs to me now: what + why = how. I mean, what I sing and why I sing it should logically result in how I should sing it, and possibly how I should look when singing it. I feel that in my case, this is just the logical result of what I and my colleagues have always wanted to do, and why: We have always tried to play old music in as authentic a rendition as possible, whatever it takes. I.e., not only the original instruments, arrangements and period interpretation style, but also the underlying approach to music, and also behaviour and the way of dressing, overall appearance. Each detail is most important."
Ondrej Havelka again: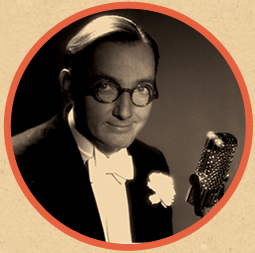 "I am one of those who have been waiting all the time for something or somebody to appear – an artistic trend, a school of thought, a personality – and offer a way out of today's cultural wasteland, bringing hope and belief, building rather than breaking. I will happily to go on waiting in hope to see it appear one day - but will I live long enough to see it?

Not to go nuts in the course of this long wait, we return to pieces of art, and genres, that first saw the light of day at a time when clear-cut aesthetic norms still existed, and were even respected in popular art.

We can return to jazz and swing of the period between the wars by playing old recordings on the turntable. This, of course, is pure joy. And then there is another option – listen to the old blackies, listen well, and then put together a band, hunt for those old instruments, scores and other documents of those times, then grasp, digest, absorb and master it all, and then play the music live, the way they played it then, while trying not to damage it by simplification or, heavens forbid, "improving" it. Yes, it is a bit of hard work but you have to acknowledge, there is nothing like experiencing music real live!"